CBT Weekly Call, 4/21/17
NYSAA
As with last week, we are still pretty much on target.  100,000 testlets have been completed.  There has been no reported trouble to date.  There are still 6 weeks left to take the tests.
Grades 3-8
We are about a week away from operational CBT Math! (Six business days!)

Reminders for Math:

Set up your classes, move your students, and add any missing students!
Set student Testing Accommodations from the Students tab:

Students>View>Edit>Modify

Note that Text-to-Speech is an "Online Testing Accommodation" available from the first tab when setting student test accommodations.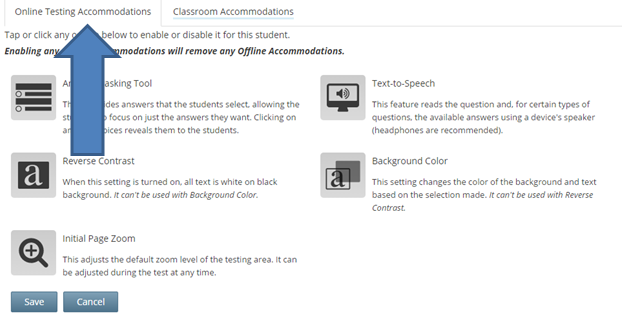 The Lessons Learned Webinar that will be held on Wednesday, April 26th @ 9:00 registration is posted: https://cbtsupport.nysed.gov/hc/en-us/articles/115001915146
REMINDER: If you print a student password code (login ticket) and THEN you set a student test accommodation, such as Text-to-Speech, this will CHANGE the student's password code.
We are posting lots of information on CBT Support this week and next week, such as information about the upcoming CBT field testing administration and information to help schools prepare better for CBT Math. If you have not yet signed up for CBTSupport, you may wish to in order to receive updates, etc.
The CBT SAFT Proctor Webinar registration will be posted on 4/26.

The webinar is planned for Friday, May 12th at 1:00 (1-3pm).
DTCs! Check your DTCs now!

There are some helpful FAQs out there to help our schools with updating this information and preparing for CBT Field Testing:
When will Field Testing schools have access to Nextera Admin?
How do I update the Test Coordinator in Nextera Admin?
How do I change the District Test Coordinator (DTC) for my district?
VIII: Finally, we want to ask all schools that are participating in CBT SAFT to refrain from creating students or adding new user roles until AFTER the CBT SAFT Administration window opens on May 8th.
We are loading the CBT class and student data to be available on May 8th, and the chance that a school may create a duplicate student or staff member in Nextera Admin should be avoided!
As a reminder, we are looking to provide the enhancement next year where districts and schools can upload student rosters on their end, but we need to work within the L2 static file upload process for the remainder of this year.