1/31/20: This article has been updated for the spring 2020 CBT administration regarding access to student constructed responses.
Parents who request access to view their student's constructed responses (CRs) entered on computer (CBT) can view them online at the school or be provided with a print version of the student's CRs. This is available for both ELA and Math.
Page 54 of the School Administrator's Manual indicates that all parents have the right to view their student's constructed responses. This is also true for students who test on paper.
Review of Test Sessions by Students and Parents
For the 2019 Grades 3–8 English Language Arts or Mathematics Test administration, students and their parents/guardians may be allowed to review only the student's own responses to open-ended questions in English Language Arts Session 2 and Mathematics Session 2 after the responses have been scored and the scoring window has closed. Parents may be allowed to read passages associated with students' responses. The review must take place in the presence of school personnel to ensure that the student's responses are not changed as they are being reviewed. Schools may provide copies of the student's responses to open-ended questions to parents upon request.
Viewing Constructed Responses for Students Who Tested on Computer
Student Constructed Responses are available via Nextera Admin's ServicePoint Final Reports page.
To access the student responses, superintendents, principals, and district test coordinators should use the following steps in Nextera Admin:
Log into Nextera Admin with your username and password from the Spring 2020 CBT administration. If you need to have your password reset, please use the "Forgot your password?" link on the Nextera Admin login page. (You may also contact Questar Customer Support, if you need your password reset.)
Click on the Student Responses tab on the blue banner toolbar.

Select District in the Student Report Level. This will cause more fields to populate the page. Under Information select a District from the District pull down menu. to see additional information populate based on your school selection. (Principals will have a School menu instead of a district menu.)
Click on View files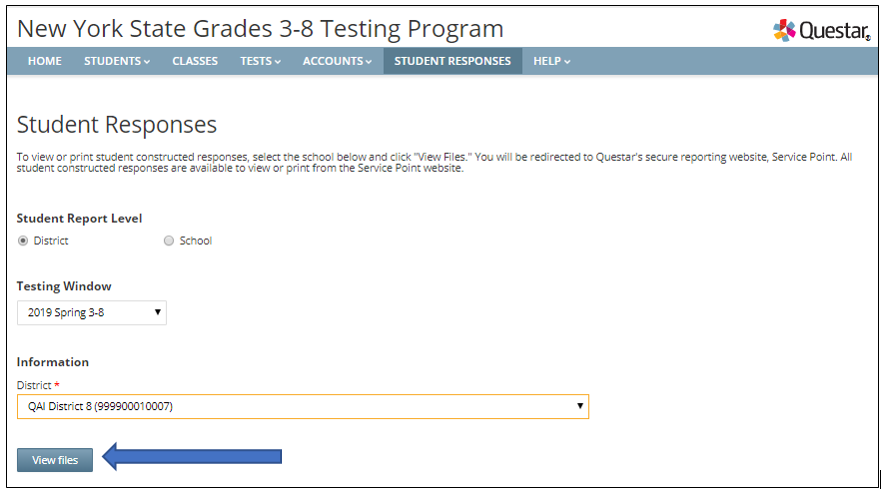 ServicePoint:
On the Nextera Admin Student Responses page, selecting View files will open a new window in your Chrome browser to display ServicePoint, Questar's reporting platform.
Select Final Reports on the left toolbar to navigate to a pop-up menu to select School Reports.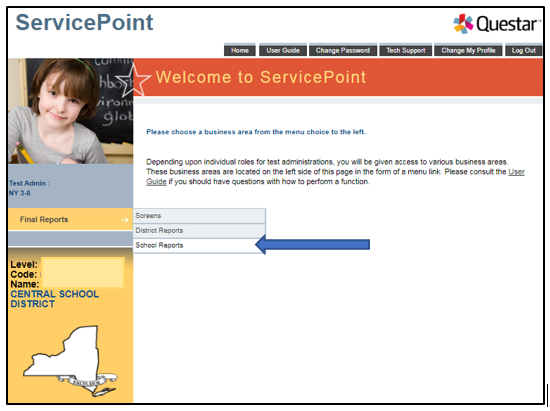 7. The District will already be populated. Select the appropriate school from the School drop down menu.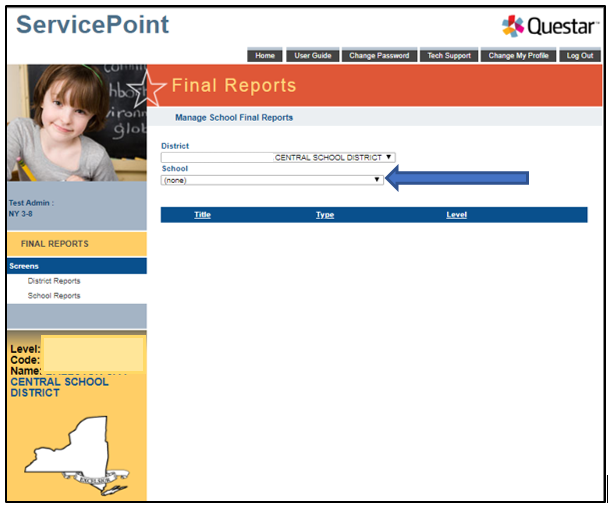 8. The list of student response PDFs are displayed in alphabetical order by student's last name. Students will have a separate line and PDF for ELA and math (if applicable). The PDF can be printed or Ctrl + F will open the "find" feature, which allows the user to search for specific students to locate constructed response PDF's.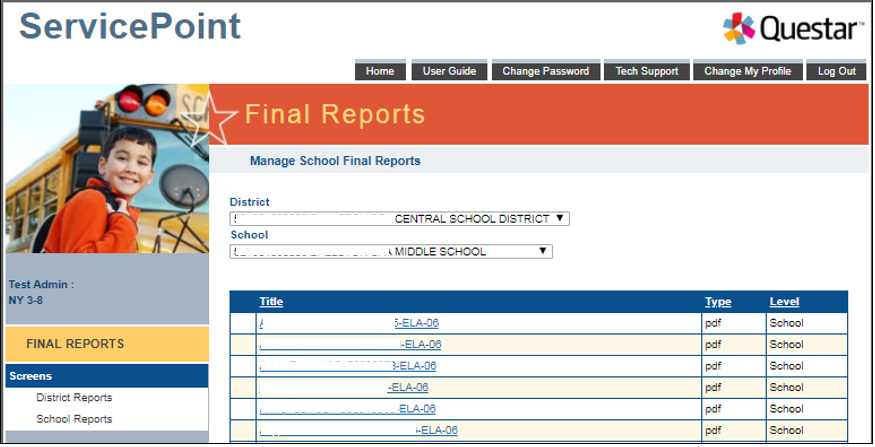 If you need additional guidance or have any questions concerning accessing student constructed responses via Nextera Admin, please contact Questar's Customer Support Center by phone at 866-997-0695, or by email at ny.3-8.help@questarai.com.
Download Resource: