10/1/18: This article has been updated for the 2018-19 school year.
Principals and district test coordinators (DTCs) of schools that have ordered computer-based tests are required to verify CBT Technology Readiness on the Nextera Admin website by December 28, 2018. Those schools that are unable to verify Technology Readiness will be reverted to paper. NYSED will contact any schools reverted to paper-based testing in January 2019.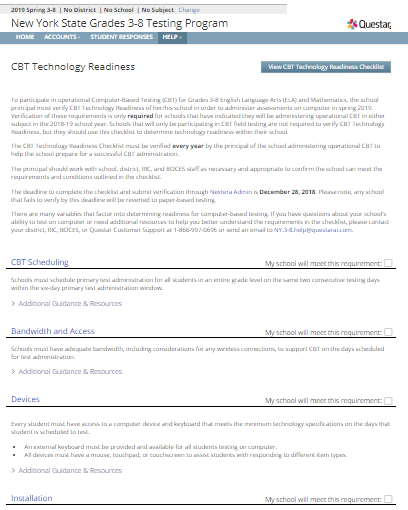 Within 24-48 hours after a school submits its exam request to NYSED for computer-based format for any subject and grade level in Grades 3-8 ELA and math, the Questar Readiness Team will send a CBT Technology Readiness information packet that includes an informational email about verifying CBT Technology Readiness, login credentials for the Nextera Admin website, and a CBT Technology Readiness Quick Reference Guide (QRG). 
The Quick Reference Guide, attached to this article, includes step-by-step instructions for verifying the CBT Technology Readiness Checklist on the school level. All schools are required to verify CBT Technology Readiness each year of computer-based testing. 
If district test coordinators are verifying for a school or schools in their district, they must first use the "Change" link at the top of Nextera Admin to be recognized as the district AND school.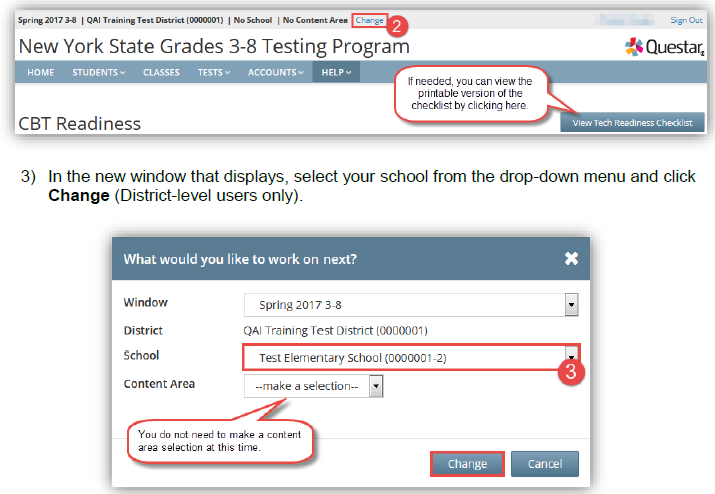 If you are from a school or district administering CBT this spring and have not yet received your "Welcome to Nextera" login credentials and CBT Technology Readiness information, please contact Questar Customer Support. 
Related Articles:
Download Reference: