CBT Weekly Update Call, January 5, 2018
Happy New Year!
Important: There will be no manual uninstall and re-install process necessary for the Nextera Secure Browsers this year, as we had warned during the fall roadshows that may be possible in January.
Please check on Nextera Admin in the Help>Downloads section to confirm that your school has the latest Secure Browsers.
Some districts/schools may need to allow for automatic updates of the Nextera Secure Browser through their multiple device management (MDM) systems to ensure they have the most up-to-date Secure Browsers.
Note that Nextera Setup & Installation Guide includes all operating system and device supported versions and information in Appendix B for "System Requirements."
Districts and Schools can update their Secure Browsers, if they need to now. This is the official "go time" word!
Practice Tests: We are working on releasing the new practice tests in the Nextera Secure Browser environment by the end of the month. (We'll keep you posted here!)
As a reminder, the "new" practice tests offered in the Nextera Secure Browser will match exactly to the practice tests already available in the publicly available online Question Sampler. 
Technology Readiness: We are in the midst of trying to contact about 20 schools to complete CBT Technology Readiness on Nextera Admin. This must be verified or the school will be reverted to paper testing for the 2018 test administration.
The data wipe and refresh will begin next Friday, January 12th with development activities on Nextera Admin occurring throughout the weekend and into Monday-Tuesday.
Monday, January 15 is MLK Day: no school.
Users will return to work on Tuesday, January 16, 2018 and will be required to reset their passwords for Nextera Admin.
Principals, district test coordinators, and RIC-Level Users will have "Welcome to Nextera" password reset emails waiting for them on Tuesday (Questar will begin sending these activation/password reset emails on Monday, January 15).
Any users that were added manually, such as BLU and DITC, will need to be added to Nextera Admin.
The timeline of events is included in today's meeting notes that will be posted to CBT Support, and I am working on additional guidance to post in the Weekly Updates section.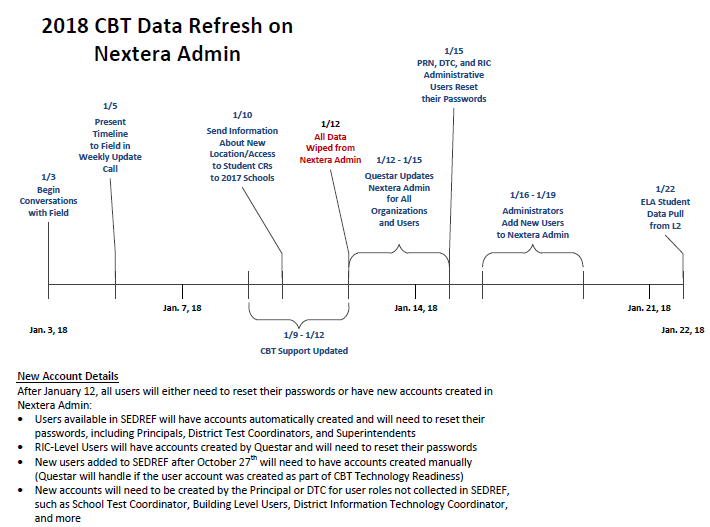 Student Constructed Responses for 2017 will be in a new location on Nextera Admin:
New "Student Responses" tab on Nextera Admin's blue banner toolbar
All 184 operational CBT schools from last year's CBT administration will be contacted with details on how to access the student CRs after the data refresh and change to Nextera Admin.
CBT Winter Roadshow registration remains open! Please continue to encourage your operational CBT schools to register and attend (remember, the best experienced is to attend in-person at an on-site location). We will be heading to a RIC near you beginning on January 30th! The first venue is in Nassau, Long Island.