For schools using iPads with iOS 11.2.5 and 11.2.6 in combination with Automatic Assessment Configuration (AAC), Autonomous Single App Mode (ASAM), and Single App Mode (SAM), there is a known issue with an Apple-generated pop-up that your students may see when logging into the Nextera Secure Browser. This cannot be disabled by Questar, so we need to make sure our schools are aware that students will need to click "Cancel" on the pop-up to continue into the Secure Browser test during operational CBT ELA.
This pop-up experience is not a technical issue that Questar can control. 
Student Experience:
Student launches the Nextera Secure Browser on her/his iPad.
Student chooses New York (NY) from the State Testing "Where do you want to go" page.
Student accesses the Nextera Secure Browser with her/his NYSSIS ID and password from the student login ticket. 
Student will see the "Turn off Guided Access and Confirm Self-Lock to Proceed." message. 
Student will click "Cancel" to proceed to the student demographic page within the computer-based test.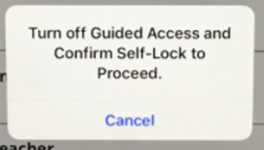 The students should be instructed to simply click "Cancel" and proceed into the test. No further action is required.
This is an Apple-generated, Operating System-level popup that cannot be disabled. The security of the test is not affected and no further action is required. 
Details about installation of the Secure Browser on iPad can be found on page 21 of the Nextera Setup & Installation Guide.