If you have forgotten your Nextera Admin login credentials, you will need to reset your password to access the website. You can do this yourself by requesting a password reset email or by contacting your district test coordinator to have a password reset email sent to you. You can also contact Questar Customer Support for assistance with accessing your Nextera Admin account.
Password Reset on Nextera Admin
Using the Google Chrome browser, navigate to the Nextera Admin homepage. Beneath the user ID and password text boxes, you will see the Forgot you password? link. Click on the link and a window will pop-up to allow you to enter your email address to generate a password reset email from Nexera Admin.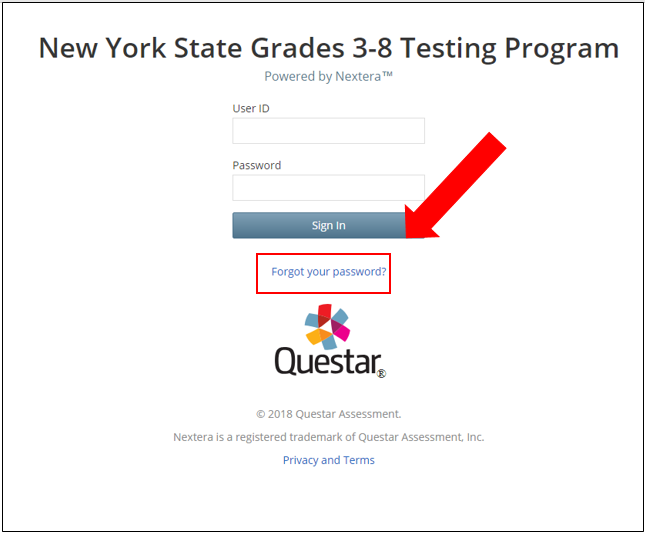 Enter your email address associated to your Nextera Admin account in the Email text box.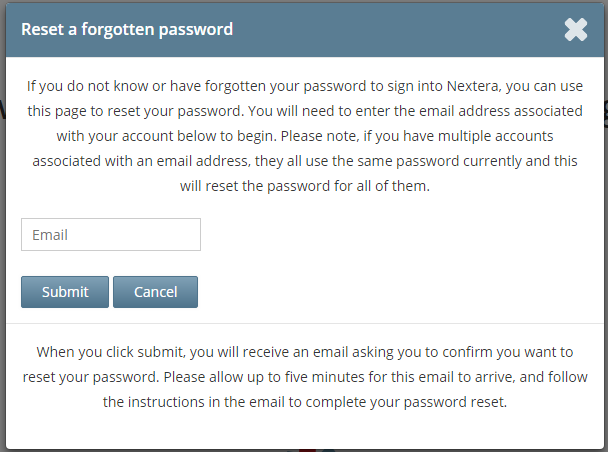 Once you have entered your email address and clicked the Submit button, you will receive an email asking you to confirm that you want to reset your password. Click "Yes" to be sent a one-time password and link to reset your password on Nextera Admin:   

You will be able to reset your password and log into Nextera Admin after navigating to Nextera Admin from the second email that is sent to you for passsword reset.
Please note that you can inadvertently copy in extra spaces when using copy/paste with the one-time password during the password reset process. It is best to type in the one-time password during the password reset process. 
If you find that Nextera Admin is not recognizing your email address or you continue to have difficulty, please contact Questar Customer Support  for next steps. You may also contact CBT Support as well for further assistance with accessing Nextera Admin.