CBT Weekly Updates Call, September 7, 2018
First call of the new 2018-19 school year!
Nextera Admin Data Refresh, September 10-13, 2018
We will remove all Nextera Admin educational organization, student, and user data on Monday, September 10.
New educational organizations and user accounts will be updated in Nextera Admin by Thursday, September 13.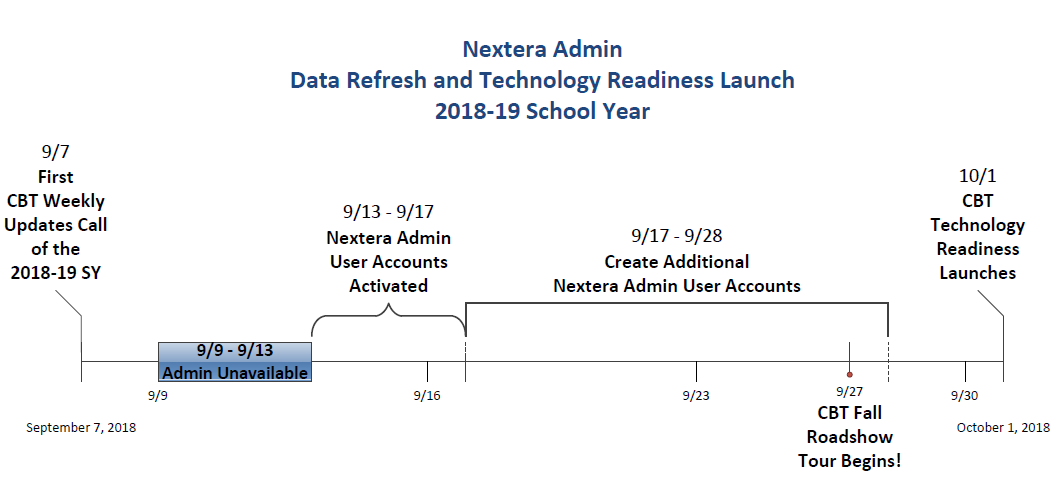 The following data is populated from SEDREF:

Districts and schools, including BOCES
Superintendents (their accounts are not automatically activated but can be activated upon request)
Principals (automatically activated for operational CBT schools, 662)
District Test Coordinators, DTC (automatically activated for operational CBT districts, 292)
RIC user accounts are created manually at Questar (we are working with Questar to have this account creation fast-tracked to begin on 9/13 with the other account activations)
A message is being posted to the Nextera Admin homepage.
We will also post a document with details to the CBT Weekly Updates content section in CBT Support.
We will mention the data refresh in the CBT This Week Listserv message this afternoon.
If you have a principal or DTC that needs immediate access to Nextera Admin on September 13, then please contact Questar customer support to have that account activated immediately once accounts are "refreshed."
The updated CBT Technology Readiness Checklist with requirements and guidelines for participating in operational CBT will be posted on CBT Support next week (in the same article location as previous years: https://cbtsupport.nysed.gov/hc/en-us/articles/216028323-Grades-3-8-CBT-Technology-Readiness-Requirements-Guidelines).
CBT Technology Readiness launches on October 1.

All principals of schools that order CBT are required to verify CBT Technology Readiness each year on Nextera Admin.
There are some new additions to the CBT Technology Readiness this year:

Statewide CBT Simulation: schools can participate on one or both of two days that we are offering to help organize a Statewide CBT Simulation (see details below).
Collection of additional user contacts for operational CBT (up to 5 additional contacts).

The requirement that all students within the same grade test on the same day in the same session (with sessions 1 and 2 on consecutive days) is now the #1 requirement for Technology Readiness.
Other guidelines have been updated to clarify issues, such as that alternate language keyboards are allowed for CBT math and more.
Statewide CBT Simulation
In order to test internal systems, external systems, as well as internal hardware and CBT school procedures, the school principal is encouraged to pick one of the two offered Statewide CBT Simulation Days to schedule a CBT dry-run or "simulation" with at least one grade level in your school. This is an opportunity to test the performance of the Questar Secure Browser within your school network and to identify any improvements your school can make to streamline operational testing procedures this spring. Within your school, decide the following for planning purposes:
Select at least one subject and grade level
Select one Practice Test Sampler for all students to access during the CBT Simulation
Prepare for students to use the Questar Secure Browser for accessing and logging into the CBT Practice Tests
We are collecting date scheduling information for our own planning purposes. Your school can test on either day or both days for the Statewide CBT Simulation. Please indicate a date below that you would like to participate in the Statewide CBT Simulation:
Tuesday, February 26, 2019 (start time should be scheduled between 8:30 to 9:30 AM)
Tuesday, March 5, 2019 (start time should be scheduled between 8:30 to 9:30 AM)
NYSED online examination request system is slated to launch at the end of September.
As with previous years, the "ordering memo" goes out first to schools to announce the opening. (So stay tuned for that memo release!)
Finally: Register Now for the CBT Fall Roadshow Tours! https://cbtsupport.nysed.gov/hc/en-us/articles/360013258571
Register Now on Survey Monkey for The Regional Fall CBT Information Sessions
If you cannot attend on-site in person, the same information provided in the Fall CBT Information Sessions will be offered via a statewide webinar on October 22nd. The webinar will be recorded and made available on CBT Support. 
Check out the closest available session NYSED will be visiting near you!
Fall CBT Information Session Schedule
Thursday, September 27, 2018
Morning Session: 8:30 am to 10:30 am
Eastern Suffolk BOCES Instructional Support Center
15 Andrea Road 
Holbrook, NY 11741
Thursday, September 27, 2018
Afternoon Session: 1:00 pm to 3:00 pm
Nassau RIC
Robert E. Lupinskie Center
One Merrick Avenue
Westbury, NY 11590
Friday, September 28, 2018
Morning Session: 8:30 am to 10:30 am
Lower Hudson RIC (LHRIC)
Putnam Room
450 Mamaroneck Avenue
Harrison, NY 10528
Friday, September 28, 2018
Afternoon Session: 1:00 pm to 3:00 pm
Mid-Hudson RIC (MHRIC)
175 Route 32 North
New Paltz, NY 12561
Tuesday, October 2, 2018
Morning Session: 9:00 am to 11:00 am 
Northeastern RIC (NERIC-Albany Office)
900 Watervliet Shaker Road 
CVES/SLL/FEH Conference room 
Albany, NY 12205
Thursday, October 4, 2018
Morning Session: 8:30 am to 10:30 am
Western NY RIC (WNYRIC)
Buffalo - Erie 1 BOCES Education Campus
355 Harlem Road 
West Seneca, NY 14224
Thursday, October 4, 2018
Afternoon Session: 1:00 pm to 3:00 pm
Rochester City School District (RCSD)
131 W. Broad Street
Room 3AB
Rochester, NY 14614
Friday, October 5, 2018
Morning Session: 8:30 am to 10:30 am
Wayne Finger Lakes / EduTech
Gala Room in the Conference Center
131 Drumlin Court
Newark, NY 14513
Thursday, October 11, 2018
Morning Session: 8:30 am to 10:30 am
Mohawk RIC (MORIC)
Costello Transportation Center
2nd Floor Conference Room
1136 Freedom Drive, Oneida, NY 13478
Thursday, October 11, 2018 
Afternoon Session: 1:00 pm to 3:00 pm
Central NY RIC (CNYRIC)
CNYRIC 7 - Superior Conference Room 
6075 East Molloy Road 
Syracuse, NY 13221
Friday, October 12, 2018
Morning Session: 8:30 am to 10:30 am
South Central RIC (SCRIC)
Holiday Inn Binghamton
2-8 Hawley Street
Binghamton, NY 13901
Monday, October 15, 2018
Morning Session: 9:00 am to 11:00 am 
Northeastern RIC (NERIC-Albany Office)
900 Watervliet Shaker Road 
CVES/SLL/FEH Conference room 
Albany, NY 12205
Monday, October 22, 2018
Webinar Time: 10:00 am to 12:00 pm
Statewide Webinar