Nextera Admin: Data Refresh & Technology Readiness Launch
2018-19 School Year
As part of our preparation for another year of CBT, we will be "refreshing" all of the educational organization and user data to prepare for the new school year. On Monday, September 10, 2018, Questar will be removing all 2017-18 school year data, including RIC, district, and school organization data as well as all user account data, including principals, district test coordinators, and more. All educational organization and superintendent, principal, and district test coordinator (DTC) data will be updated in Nextera Admin from SEDREF by Thursday, September 13, 2018.
During this "data refresh" on Nextera Admin, users may not have access to their Nextera Admin account between September 10-13, 2018. Questar will be activating updated principal and district test coordinator accounts for our 2018 operational districts and schools beginning on Thursday, September 13, 2018. Our operational school and district users from this past spring will have accounts activated as a top priority to ensure access to Student Constructed Responses remains available through Nextera Admin.
As part of the "data refresh," all user accounts are removed, including teacher accounts. It is the responsibility of principals and test coordinators to create new accounts for users who are not created automatically as part of the "data refresh" from SEDREF and who need access immediately to Nextera Admin. You can also contact the NYSED CBT Support team if you need additional help.
CBT Fall Significant Events Timeline
The following is a brief timeline of significant events leading up to the launch of CBT Technology Readiness, which aligns with the opening of the NYSED online examination request system where schools can order the computer-based tests and sign up for CBT field testing. Please also note the start of our Fall CBT Roadshows that begin on September 27.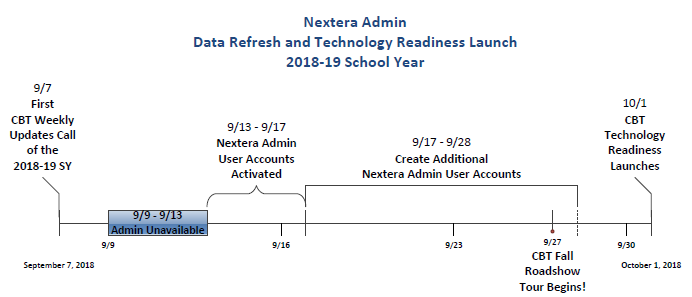 Nextera Admin Data
The data available on Nextera Admin is populated from the SEDREF database at NYSED. Data was pulled from SEDREF on Monday, August 27, 2018 to populate Nextera Admin for the 2018-19 school year. Student data is populated in January/February of the new school year. We provide to Questar the following data for automatic population on Nextera Admin:
District information
School information
Superintendent information for account creation
Principal information for account creation
District Test Coordinator for account creation
All other user accounts for Nextera Admin, including technology coordinators, teacher accounts, and more, must be created manually by the principal or district test coordinator. You can locate a list of all user account roles along with their access permissions for Nextera Admin on CBT Support in the CBT Resources section. Please note that several account roles, such as District Level User, can be created to assist on the district and school level with user account creation.
Nextera Admin User Account Activation
After Nextera Admin data is refreshed, beginning on Thursday, September 13, 2018, the Questar team will begin activating principal and district test coordinator accounts for schools and districts that administered operational CBT in spring 2018. Users will receive a "Welcome to Nextera" email that provides temporary login credentials to Nextera Admin. The user will be required to change the temporary password upon firs login with the new login credentials.
If you are a user who needs access immediately to view Student Constructed Responses via Nextera Admin, please send an email to Questar Customer Support to have your account activation expedited. All users will need to reset their account credentials after receiving the "Welcome to Nextera" email for the new school year.
If you need to be reminded about how to navigate Nextera Admin or how to create new users, you can refer to Appendix Y of the School Administrator's Manual (SAM).
Helpful Nextera Admin Account Related Articles on CBT Support
Nextera Admin Roles & Responsibilities
Frequently Asked Questions
Q: I do not see student data in Nextera Admin—when will that be available for the 20189 test administration?
A: Student data is loaded closer to the actual test administration window so that we can try to provide the most accurate and current data for our districts and schools to work with in Nextera Admin. Student data is expected to be available in Nextera Admin after January 2019. We will post dates once they are established. 
Q: I am a principal or a district test coordinator of an operational CBT school or district and I did not receive my Nextera Admin login credentials by Monday, September 17, 2018 —what can I do?
A: Contact Questar Customer Support and let them know that you did not receive your "Welcome to Nextera" email for accessing Nextera Admin.
Questar Customer Support will put you into contact with the Questar NY Support Team who can confirm with you directly that your account is activated on Nextera Admin. Remember that principals and district test coordinators must be accurate in SEDREF in order to have access to Nextera Admin.
Additionally, check your spam folder. All users should confirm that Questar email domains are whitelisted with their network IT team to allow email from the @questarai.com domain.
Q: I am an assistant principal and I can no longer access my account on Nextera Admin—why not?
A: Assistant principals are not administrative user roles loaded from SEDREF into Nextera Admin, and, thus, will not have an account automatically created in Nextera Admin. Assistant principal accounts must be created manually by the principal, district test coordinator, or a RIC-Level user.
Q: What information should we use to create the User ID in Nextera Admin?
A: While not required, we recommend that the user's email address be used as the User ID for the user to log into Nextera Admin.
Q: What are the rules for creating a password in Nextera Admin?
A: Passwords in Nextera Admin must have the following criteria:
Must be 8 characters in length
Must be alpha-numeric and contain at least one number
Must contain one uppercase letter
If case is used during password creation, then case must be used during login
Q: I have a user who needs to be both a School Test Coordinator (STC) and a Teacher in Nextera Admin—do I need to create two separate accounts for this user?
A: No, a user can have dual roles in Nextera Admin. When creating the new user account, you can add multiple roles to a user to provide for the specific access the user needs to assist with CBT administration in your school. This rule remains true for district-level accounts, too.
Q: Why are there no teacher accounts associated to my school?
A: Teacher accounts were removed from Nextera Admin as part of the data refresh. New teacher accounts will have to be created manually by a district- or school-level user. Note that teacher-level accounts can be used for any user who will be directly involved with CBT administration within a classroom of testing students, such as the proctor. A Teacher ID must be used when creating teacher accounts; the school can use the TEACH ID or another internal ID when creating the teacher account. 
Q: I am a principal of a school that administered CBT last year—where can I find access to my students' Constructed Response answers?
A: Access to student constructed response (CR) answers is available on Nextera Admin for two years after the CRs are scored and available to schools. In Nextera Admin, please click on the "Student Responses" tab on the blue banner toolbar to find the button to link to student CR reports. All student responses are available in PDF to view or print from the Questar reporting website. Only superintendents, principals, and district test coordinators have access to student CRs.
*Superintendent accounts will not be automatically activated—these users will not receive "Welcome to Nextera" emails as part of the data refresh. The district test coordinator (DTC) can activate a superintendent's account, if the superintendent will be involved with CBT test administration in Nextera Admin.