CBT Weekly Updates Call, 10/19/18
More than 300 schools have already ordered CBT!

Nearly 100 schools that have ordered are new to operational CBT this year!

Please remind any district/school colleagues that they can still join the CBT Statewide Webinar on Monday, October 22 at 10:00 am. We have added the URL to for joining immediately on Monday morning to the webinar article page on CBT Support: https://cbtsupport.nysed.gov/hc/en-us/articles/360016596271. Please share this!
We've posted the CBT "monthly" training calendar on CBT Support, which will help districts and schools with planning for any upcoming CBT training and webinar events.

Please be sure to share this (especially with new-to-CBT districts and schools):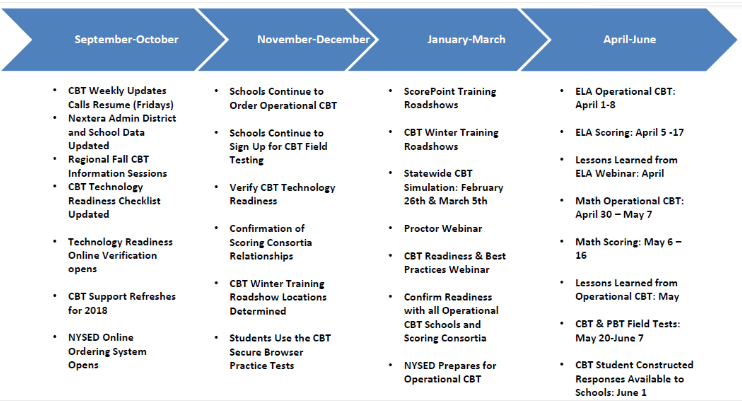 We are finding that many of our new districts and schools do not know that winter training will be an "all-day" and "in-depth" training for test administrators to learn more about how to manage student testing both for setting up students in Nextera Admin and administrating CBT during the days of testing.
We are working to set the dates for CBT Winter Training now with Questar, and then we will reach out to RIC locations to secure rooms.
Registration for winter training will launch in mid-November on CBT Support.
We are working with L2 and the IRS group to finalize all student data dates, including internal reviews and data sample reviews with Questar.

The date to share with the field remains December 14, 2018 for schools to have their student data uploaded to L2 to be populated to Nextera Admin for the spring CBT administrations.

This is not the "final pull" date--that will be later in January and will be announced soon.

We are working on dates for opening Nextera Admin ahead of the CBT ELA and Math administrations that will allow four weeks for schools to manage student data, such as creating testing classes, setting student testing accommodations, setting Not Tested Codes, and more.

We want to remind all districts and schools that Not Tested Codes, such as Taking Regents, Medically Excused, etc., can be set on Nextera Admin as soon as students are available (four weeks ahead of the CBT administration windows) from the Testing Status Details page.

We are working on updated steps to post in an article on CBT Support to make sure this is clear (this came up at a couple of CBT Roadshows).

The CBT Field Testing dates have been posted in the testing schedule on the Office of State Assessment website and are shared via an article on CBT Support.

The CBT field testing window is a three-week window (the PBT field testing window is a two-week window): Monday, May 20, 2019 to Friday, June 7, 2019