CBT Weekly Updates, 1/31/19
The video from the Simulation Webinar is posted! The webinar to prepare schools for the upcoming CBT Simulations that are occurring on February 26 and March 5 had 494 attendees at its peak! We are so excited to have so many schools interested in conducting a simulation in their schools.

We have the Q&A and are actively working to transfer that content into an article on CBT Support (it will be in the FAQ section).
We added a bonus slide to the PPT and PDF Simulation Webinar presentation documents to help schools with understanding where to find the student login ticket templates on CBT Support: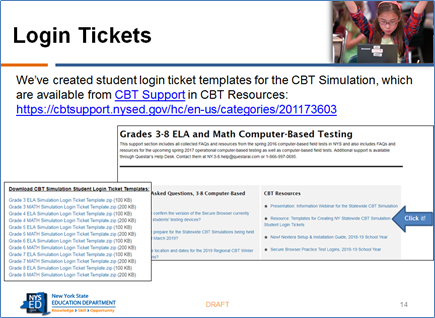 2. The student login ticket templates are intended to assist schools with creating login tickets for the simulation with the already-available Secure Browser practice test logins. Schools can certainly create their own—we are simply trying to help.
There are login tickets available by subject/grade level with no accommodation and also with accommodations, such as TTS and Reverse Contrast, as well as the five alternate languages for CBT math.
During the Simulation Webinar, we talked about the top three differences between operational CBT and the simulation:

There is no ability for students to pause the test and resume testing: schools can consider if they want to use a folder to cover the student's screen if a student needs to go to the bathroom or if they simply want the student to submit the test at that point—this is a local decision.
There is no rostering of student data or connection to Nextera Admin, so the student demographic screen will contain general/default information—students should simply click through this by clicking "yes" when they access the Secure Browser practice test.
There is no way to provide multiple accommodations with the Secure Browser practice tests, so schools will either pick one accommodation or not have that student participate in the practice tests—this is a local decision.
3. A fourth "big" difference was identified by our attendees—what do we do for students who need a paper copy for Test Read, another IEP/504 Plan accommodation, or alternate language in CBT math?
4. What do we do about schools that want to have these paper copies as part of the CBT simulation? We would like suggestions
5. The Winter Roadshows begin on Tuesday in Long Island!
6. We have articles in queue that we plan to post during the roadshows, such as the following:
What physical "things" can students use or will students use during the computer-based tests?
What are the recommended TTS voicepacks per device?
How do you reset a Nextera Admin account to ensure the user receives the user-friendly "Welcome to Nextera" email?
How do we use Examiner View in Nextera Admin?
How do we set Not Tested Codes via the Classes page?
And, as always, while we are traveling across the state—as we hear "hot topics" that we think should be an FAQ on CBT Support, we will create an article to help!

All new content is shared via the CBT Listserv, but you should also encourage users to sign up to Follow CBT Support new content alerting.