CBT Weekly Updates, 3/15/19
The Proctor webinar is today! Attendees can join directly by following the URL at the top of the article page on CBT Support: https://cbtsupport.nysed.gov/hc/en-us/articles/360023883591-Webinar-URL-2019-Computer-Based-Testing-CBT-Proctor-Training-Best-Practices-Webinar
We received enough email about not being able to create classes in Nextera Admin due to the pop-up for selecting a district, school, and content area that we added an article about the this (the tiny-baby change link must be used to select "Content Area")": https://cbtsupport.nysed.gov/hc/en-us/articles/360024977812-Why-do-I-get-a-pop-up-error-for-selecting-a-district-school-and-content-area-when-trying-to-create-a-class-on-Nextera-Admin-

3. I've updated the Fast Track NYSSIS ID slides that will be distributed to the RIC CBT Working Group this afternoon, and I've included the open/close dates for each CBT administration:
ELA operational window:

Opens: Monday, March 25th  at 6 am
Closes: Thursday, April 11th at 6 pm

Math operational window:  

Opens: Monday, April 22nd at 6 am
Closes: Friday, Monday May 10th at 6 pm
4. We also have confirmation on what "happens" to the Fast Track NYSSIS ID in its lifetime after CBT: this Fast Track NYSSIS ID is the permanent ID for that student (for the rest of her/his life!).
5. District Moves and Operational CBT: In the RIC Working Group this past Wednesday, we shared the workflow for conducting district moves/student transfers ahead of the operational CBT windows: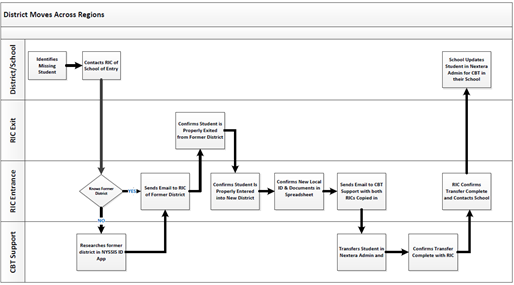 But we did not talk about what happens DURING operational CBT: during operational CBT, a student needs to be transferred immediately within Nextera Admin so that there is no delay to the student testing in the new school
These student transfers will be conducted immediately through CBT Support

Remember to document any/all student transfers in the template shared with the RIC Working Group this past Wednesday
Remember to provide the new-district student Local ID

The update to Nextera Admin to restrict entry of the Local ID to 9 characters did not happen for this year, so we must continue to be diligent and careful with this data field on Nextera Admin
6. Three Known Issues that we want you to be aware of now:
Tablets vs. laptops: Questar supports the iPad, but has found there are issues with "digital input vs stylus/finger input" for the new laptops that have flip-screens that turn the device into a tablet.

If you have schools that are planning to use the "tablet" mode for the drawing tool, you need to inform them of this issue: Questar has not developed for or tested for the flip-screen tablet mode.

Chromebook "follow along" TTS highlights intermittently skips the first word when the robots are reading …
Chromebook Chromevox voice pitch and speed cannot be adjusted for the Secure Browser (we had reports after the simulation that this voice reads fast for TTS)
In CBT Math test sessions only: Highlighting and Answer Eliminator does not SAVE when a test session is paused; when the student resumes, this work is gone.
A Known Issue will be posted about all three of these issues
7. Google for Education and beta devices: these devices will be updated to a "future" instance of the Chrome browser and will not be able to be used for operational CBT (the Secure Browser has not been tested for the future).
Do you guys know who in your district may be enrolled in the Google for Education Beta program?
We have heard the devices can be "power washed" to return to a previous Chrome OS version to be compatible with the Secure Browser and present day
8. Field testing assignments are posted on the Office of State Assessment and some principal have already received their letters!
9. The ScorePoint Statewide Webinar is on Monday at 10:00 am: