NWEA supports touchscreen devices for the computer-based tests available through the Secure Browser. As part of that support, students can use finger touch or traditional touch styluses that use presses or touch input on iPads and touchscreens to generate an interaction.
The Nextera Secure Browser does not support input via digital pens, also referred to as electro-magnetic resonance (EMR) pens. The digital pens may work in some instances with touchscreen devices when using the Secure Browser, but not all interactions with a digital pen will register as will finger input and input via a regular stylus.
The following provides a comparison so that schools understand the difference between a supported regular stylus and an unsupported digital pen for input interaction within the Nextera Secure Browser computer-based tests.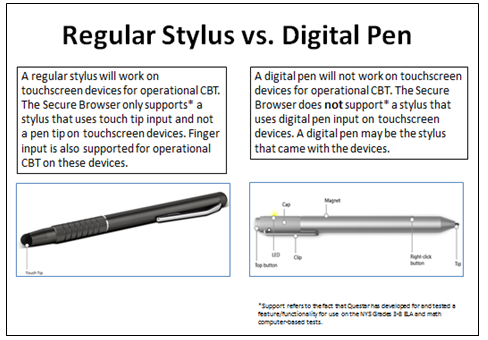 During the CBT Simulations this winter, schools reported a good experience with regular stylus input within the Questar Secure Browser. If you ever find that a stylus is not interacting well with a touchscreen for a student, please check to ensure that the touchscreen is working as expected with finger input. A regular stylus and finger use the same input technology to interact with a touchscreen.
If a stylus is not working, schools can try cleaning the stylus tip with rubbing alcohol, replacing the tip, or replacing the stylus. A stylus can wear out, which can cause issues with its ability to interact successfully for input with a touchscreen.
Related Articles: