Status: Good
The status of the Nextera systems is Good.
Students in New York State can begin testing on CBT beginning at 7:00 am EST today. We hope all schools have a successful CBT administration this week. 
Protip of the Day: You can monitor student testing statuses from the Tests and the Testing Status Details pages in Nextera Admin. All testing status times on Nextera Admin, including the Testing Status Dashboard  (the"donut" image) on the homepage, are reported in Central Standard Time instead of Eastern Standard Time for NYS. 
Also, please be aware that students who are set for a "Not Tested" code will appear as part of your "Finished Testing" percentage at the start of your CBT Administration: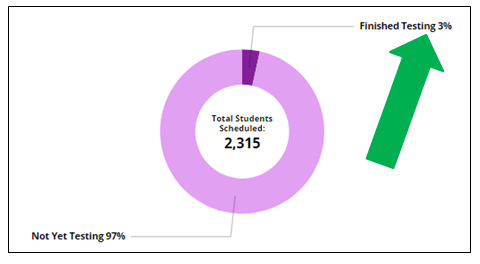 Related Articles: