Status: There should be no new computer-based testing (CBT) sessions started today by students. 
Schools should use Wednesday, April 3, 2019 to review test sessions that are "In Progress," paused or active student test sessions, for their students. Please be sure to provide details regarding any ongoing concerns to your Regional Information Center (RIC) or Big 5 City School Districts as we are working directly with them to obtain more information about schools' CBT experience on Tuesday and to provide solutions.
We understand that some schools encountered two different scenarios on Tuesday that may have resulted in test sessions not being completed today due to technical difficulties:
Students paused the test session and then were not able to log back into the test session
Students completed the test and then were not able to submit the test sessions
Updated Guidance to Confirm Test Sessions are Complete
Some students saw the following message on screen when trying to submit their test sessions: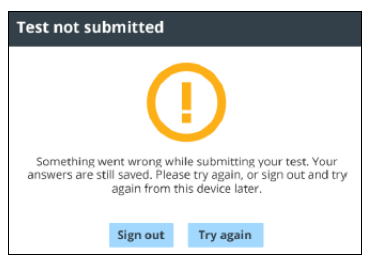 Some schools have reported they are seeing an indication of "Completed" in the Nextera Admin system for those student test sessions that encountered the yellow exclamation point message.  A student's test session status in the Nextera Test Delivery System (TDS) must match the Nextera Administration system—both systems must have "Completed" indications to confirm the test session has been fully submitted and student responses are successfully captured at Questar.
Upon accessing the Nextera Test Delivery System, students should see a "Completed" status for the test session that encountered the "Test not submitted" message yesterday: 

If a student is not available to access TDS to review and, if necessary, submit the test session, then a test administrator and one other school testing administrator, such as the principal, should work together to review and submit the test session, if necessary, for the student. 
Please remember to have the school's Proctor PIN on-hand to assist students with re-accessing paused test sessions. 
We want to thank the many schools who contacted us yesterday to help us understand the student experience on their end. NYSED will continue to work with Questar today to learn more about the Nextera systems' issues. We will work to advise our RICs, districts, and schools throughout the day.
Related Articles: