Access to computer-based testing (CBT) for English Language Arts (ELA) is no longer available to students. Questar has closed the CBT ELA testing window. If students try to access the CBT ELA tests, they will see the following message on the Questar Secure Browser login screen: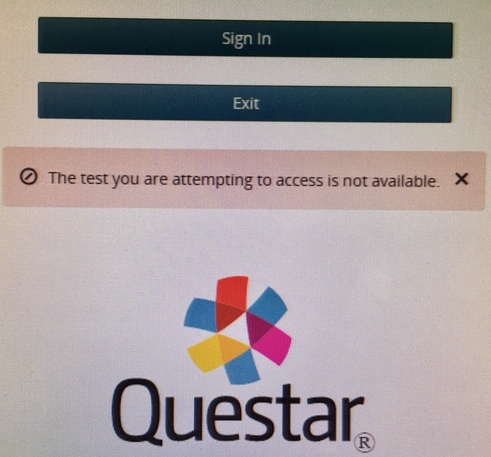 Student Data for CBT ELA will be "pulled" from Nextera Admin by the end of the day on Wednesday, April 17, 2019. 
Review Student CBT ELA Data
It is time for all test administrators to review student data for CBT ELA test sessions on Nextera Admin to make sure you have "Completed" test sessions or a "Not Tested" code set for your students. An easy way to review testing statuses is to use the "TESTS" tab to navigate to the "Testing Status Details" page. Please note, the report on this page does not include the number of test questions the student completed, but it allows you to download all students in your school to quickly reference the testing status of all student test sessions.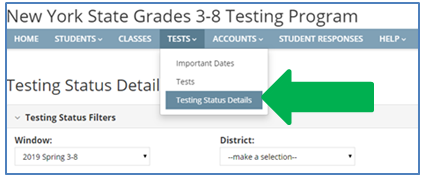 From the "Testing Status Details" page, you can download a list of all students by clicking the "Export" button on the bottom right of the list of students: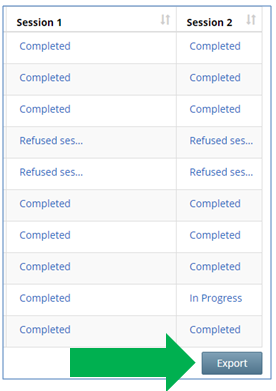 If you find students with "In Progress" test sessions, please review the student's details from the "Tests" page for the student's class to determine the following: 
The test session is complete but simply not fully submitted by the student
The test session should have a "Not Tested" code applied, such as "Absent for Session"
This week, Questar will run a process on Nextera Admin to close all remaining open test sessions. Please be sure to report any testing issues students may have encountered to your local Regional Information Center (RIC) or Big 5 City School District. And remember never to send student names via email; only the NYSSIS ID is necessary for communication. 
Related Articles: