Status:  Good
Questar advises the Nextera systems are working well this morning and that students will have a good testing experience in New York State today as schools begin week two of operational CBT Math.
There are two more days of primary administration for operational CBT Math. There are three additional days of makeup testing. At the end of the week (5/10/19), you should have a "Completed" or "Finished" testing status or a "Not Tested" code set for every student test session in Nextera Admin. 
Protip of the Day: Consult page 50 of the School Administrator's Manual (SAM) to review what Secure Test Materials you must return to Questar and what Secure Test Materials you can securely destroy after a CBT administration in your school: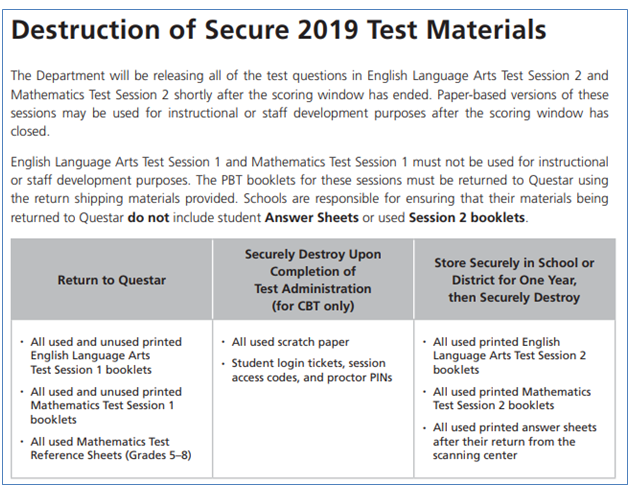 You'll find in the table on page 50 that you can safely and securely destroy scratch paper, student login tickets, and more at the end of your CBT administration. Reference sheets for CBT math must be shipped back to Questar along with any used and unused paper test booklets for Session 1. Always double-check test booklets for missing answer sheets! 
Related Articles: