Status:  Good
Happy Friday! Questar advises the Nextera systems are working well this morning and students will have another good testing experience in New York State today. Please be sure to share details about your schools administration with your local Regional Information Center (RIC) or Big 5 City School District. They will then share directly with the NYSED CBT Team. 
You can also share feedback via the CBT Mathematics Administrator's Survey, 2019 CBT Administration: https://cbtsupport.nysed.gov/hc/en-us/articles/360027577452.
We want to hear from you! 
Protip of the Day: You can easily review all student testing statuses within your school from the Testing Status Details page in Nextera Admin. This page provides a high-level view of all your students with their testing statuses for Session 1 and Session 2. It also provides indication of the "Not Tested" codes, if they are set for a student. When you locate a student with a "Not Started" or "In Progress" testing status, you need to review further.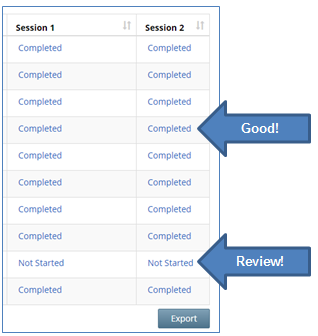 You can easily export this report into a .csv file by clicking the "Export" button on the lower right of the students list on this page. 
If you need to review further, you should use the report available on the "TESTS" tab, Tests-Classes page to see start and end time stamps along with how many items a student may have completed for a test session. Below is an example of a student test session that has been started and not completed that needs further review: 

Related Articles: