Status:  Good
Questar advises the Nextera systems are working well this morning and students will have another good testing experience in New York State today. We expect students to continue finishing their make-up test sessions today. Please see steps below for the student testing status report from Nextera Admin you should download and save as one of the final steps to completing CBT in your school this week. 
Share Feedback
Please remember to share feedback about your CBT Math experience! You can find a link to the CBT Math Administrator's Survey on CBT Support: https://cbtsupport.nysed.gov/hc/en-us/articles/360027577452. 
Protip of the Day: One of your final steps to "close out" the CBT administration in your school is to download and save the student testing status reports from the Nextera Admin TEST tab, Tests-Class page for each testing class in your school. The report from the TESTS, Tests pages shows every student with her/his testing status, number of total test items completed, and start/end time stamps as well as any "Not Tested" codes set for students. This is the most complete report to keep for your school's CBT student test records. 
On Nextera Admin, click the TESTS tab and navigate to the Tests page:

Click "View" for every Class to navigate to the list of students in that class: 

You will find all students listed with their testing statuses, number of total items completed for each test session, and start/end time stamps: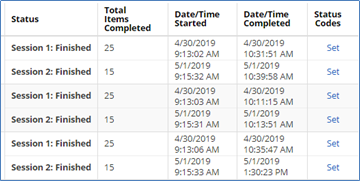 If you have marked "Not Tested" codes for students who did not take the computer-based test, then you will see a list like the below with the "Not Tested" codes indicated in the "Status Codes" column: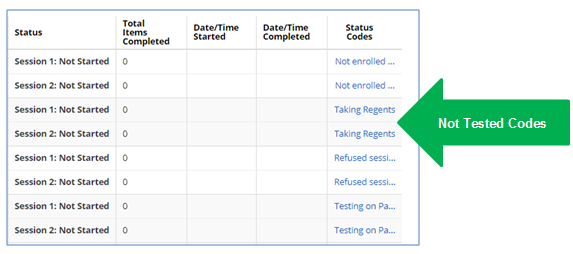 Click the "Student Download" link at the bottom-right of every class list of students to download and save your students' testing statuses: 

Having this report later this summer will help you when reviewing student test record reports and scores. This is a CBT Best Practice. 
Related Articles: