5/11/19: The intermittent technical issues were fixed by Questar on Saturday, May 11, 2019. 
Some users are experiencing intermittent login errors on Questar's Nextera Admin platform as well as encountering timeout errors when trying to run student reports. If you encounter an issue, please try to clear your Chrome browser cache, and then try to access Nextera Admin again. If you continue to encounter technical issues, please contact Questar Customer Support to let them know: 
Questar Customer Support
Phone: 866-997-0695
Email: NY.3-8.help@questarai.com   
Many schools are reporting no issues and have been able to access Nextera Admin without a problem, but we do want to let those of you know who may experience the below login error that Questar is aware and working to correct the issue.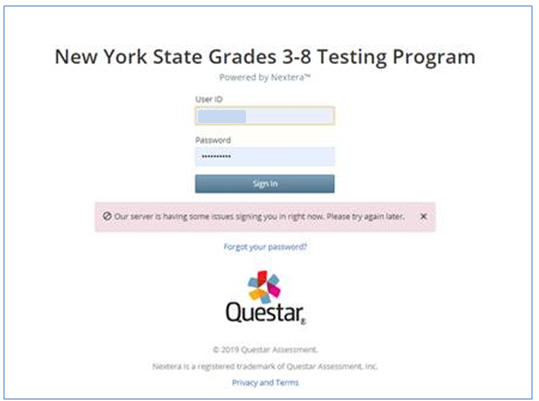 Once the issue is corrected by Questar, we will update this article with a "FIXED" status in the article title.
 Related Articles: