Status:  Good
Questar advises the Nextera systems are working well this morning and students will have another good testing experience in New York State today. Today is the final day of the operational CBT Math primary administration. Students throughout the state should be nearing completion of both of their CBT Math test sessions. CBT Math makeup testing runs through Friday, May 10, 2019. 
Protip of the Day: You can find step-by-step details for how to review student testing status details on Nextera Admin in Appendix Y of the School Administrator's Manual (SAM), pages A-79-A to A-81. Appendix Y of the SAM is the user guide for Nextera Admin. Please continue to review all student testing statuses and set any missing "Not Tested" codes for CBT Math.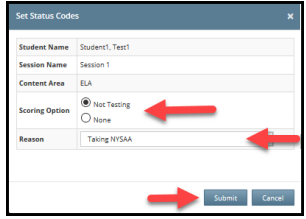 CBT Field Testing
It's time now to turn our attention to the upcoming CBT Field Testing administration that kicks off on Monday, May 20, 2019. We've been updating CBT SAFT materials on CBT Support to help you find the information you need to prepare for field testing on computers.
Where can I find my school's field-testing assignment?
https://cbtsupport.nysed.gov/hc/en-us/articles/360027655592
You can find your school's field testing assignment on the
Office of State Assessment website
on the
Field Tests page
.  On this page, you will find the field testing assignment spreadsheet that includes the list all schools with their subject and grade-level field testing assignment. Field testing assignments were sent to schools in March.
Related Articles: