Status:  Good
Questar advises the Nextera systems are working well this morning and students will have a good CBT field testing experience in New York State this week. 
Tests are available for students to access at 7:00 am EST every morning. The CBT field testing administration window runs through Friday, June 7, 2019. 
Protip of the Day: Use the Multi-Student Edit functionality on Nextera Admin to set all student testing accommodations, such as Text-to-Speech, from one page. The School Administrator's Manual (SAM) for CBT Field Testing, Appendix L, includes step-by-step instructions for how to use this functionality on Nextera Admin. This can greatly streamline your preparation when you have a lot of testing accommodations to set for your students. You can set them all at once! 
The details on pages A-37 to A-39 of the SAM provide numbered steps and images to help you use the Multi-Student Edit functionality to set student testing accommodations: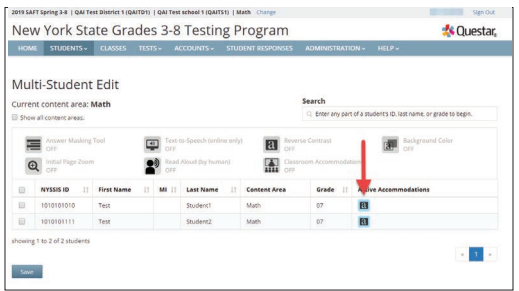 Related Articles: