Nextera Admin Refresh is taking place from 9/9/19 through 9/23/19.
Nextera Admin is unavailable during the refresh period.
All users were removed and therefore their logins are no longer valid.
Questar will begin to activate users today, 9/20/19 and the "Welcome to Nextera" emails will be sent as Questar completes the activations. Be sure to check your email and spam folders. If you have not received the welcome email by 9/25/19, please contact Questar at 1-866-997-0695.
The NYSED online examination request system opened on 9/17/19. Online requests must be placed by 12/6/2019. If schools find that they need additional ELA or math test materials after 12/6/2019, they must contact Questar directly via email.
An updated testing schedule with guidance on the scheduling of CBT sessions and stand-alone field test administration dates for Computer-based and Paper-based testing was posted on 9/19/19.
Scheduling of CBT Sessions

Stand-Alone Field Test Administration Dates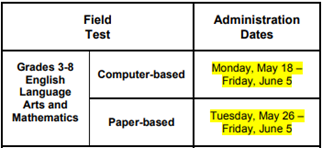 The updated testing schedule is available on the Office of State Assessment's website.
Technology Readiness is scheduled to open on 10/1/2019. The CBT Technology Readiness Checklist must be completed and submitted by 12/30/2019 via Nextera Admin.
Principals and District Test Coordinators (DTC) will receive the Quick Reference Guide in the coming days.
We do not anticipate any major changes at this time on the technology readiness checklist. NYSED is working closely with Questar on version/ device support and will notify districts and schools of any updates, as needed.
Reminder:In early January of each school year, we review the Secure Browsers to verify final updates/versions. At the end of January, NYSED will advise all schools when the Secure Browsers are finalized for the spring CBT administration.
NYSED has finalized winter simulation dates! For the 2019-20 school year, there will be two CBT Statewide Simulations offered to schools:
Tuesday, January 28, 2020
Tuesday, February 11, 2020

Schools may participate on either or both dates for the winter simulations.
NYSED will be requesting that schools indicate their tentative plans to participate in the simulation in the CBT Technology Readiness Checklist.
This year, NYSED is working with Questar on the following enhancements that could offer some improvements to schools participating in CBT, while offering very low risk.
Additional option to print login tickets through download to csv/print one per page
Revised Location/size of Sign Out button to prevent accidental clicks
Revised Local ID error message for greater clarity
Differentiation in appearance of the Access Code and Proctor PIN windows
Please note that these enhancements are not yet finalized. NYSED will continue to work with Questar throughout the development process to maintain the primary focus of stability of the system.
Currently, NYSED will alternate this call with the RIC/Big 5 CBT Working Group call on a weekly basis.