Nextera Admin allows test coordinators and teachers to set the following student testing accommodations for CBT that are delivered via computer:
Text-to-Speech (online only)
Read Aloud (by human)
Answer Masking
Reverse Contrast
Background Color
Initial Page Zoom
Testing Language (Math only)
There are also "Classroom Accommodations" that can be selected that align with options available on the paper answer sheets. These accommodations, such as "flexibility in setting" and "test read," are not delivered via the computer or online experience. Selecting these options in Nextera Admin allows NYS to have better data on our students and their testing experience.
You can find steps for setting student testing accommodations in the attached Quick Reference Guide. The ability for setting student testing accommodations is available at any time prior to administration when class/student data is available in Nextera Admin.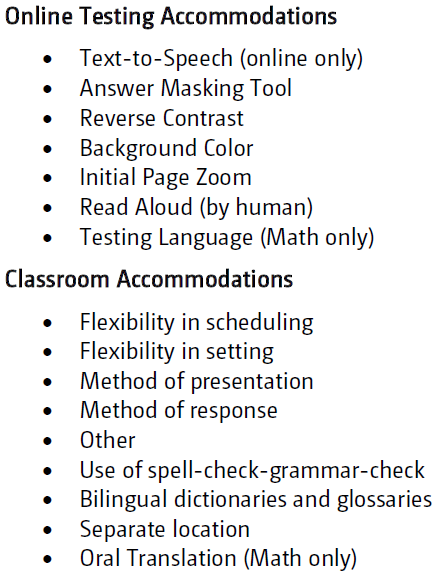 Related Articles:
Download Presentation: