There are two different Test Read Accommodations available to students on the Nextera Test Delivery System (TDS) that can be set by test administrators in Nextera Admin. Please note that these two accommodations are English-only and cannot be used for alternate language test delivery for CBT Math. Students who need a combination of Test Read and an alternate language should test on paper via oral translation for providing these testing accommodations.
Text-to-Speech (TTS) is an embedded accommodation that reads the directions, questions and, for multiple-choice questions, the answer choices, through the device's speaker. Because of this, headsets are recommended when using this accommodation.

The TTS Player will read the test in English to the student.

Read Aloud (by human) is a combination of an online- and human-delivered
accommodation. A human reads the test to the student from a paper test, and the student enters the responses on the computer.

The Read Aloud test form will be presented to the student in English.
Both TTS and Read Aloud use Test Form A to provide the test to the student.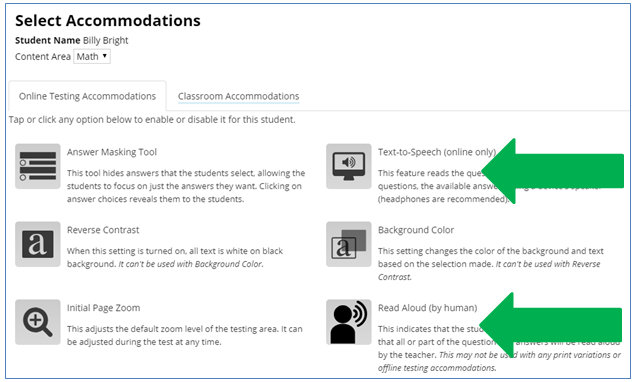 Related Articles: